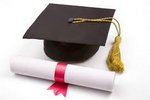 Graduation Cap and Diploma
Retroactive Diplomas and High School Proficiencies - AB7 Update
As of October 13, 2017, the Nevada high school proficiency exams are no longer required.
If you did not receive a diploma, and have met all graduation requirements except passing one or more of these exams, you may now request a transcript review to obtain a diploma.
How do you get started? If you were a Pathways or Adult Education student, download and print a form HERE! Please send or email it to the address at the bottom of the form.
If you were not a student here, please contact the last high school you attended.
We will call or email you 5-10 business days after we receive your paperwork. It may take up to 60 days to complete processing.
If the review finds you still need a few credits, Adult Education can help you earn those.
Please contact us if you have any questions, at 775-751-6822.